The Lyft app is an all-in-one tool that has areas for both passengers and drivers. Passengers use the app to request rides, and drivers use the app to accept rides, navigate to passengers, and handle other driver issues like their pay, vehicles, and insurance. You can only access to driver side of the app if you're an active Lyft driver.
There are a lot of interesting features inside the Lyft app for both passengers and drivers that you might not know about, so I went through the entire app and  cataloged every feature I found.
Skip to the section about the Lyft Driver App features.
Lyft passenger app features
The map
The Lyft app home screen is a map that shows where you are, where available Lyft cars are, and it allows you to select your pickup and drop off location. You can also select from different Lyft services on the map.
How to select your Lyft service: Lyft, Line, Plus, Premier
There are several different Lyft services, each with a different purpose for riders. Regular Lyft holds 4 passengers, Lyft Plus holds 6 passengers, Lyft Line is a shared ride with a stranger (similar to UberPOOL), and Lyft Premier is a luxury sedan that holds 4 passengers.
Watch out for Prime Time surcharges! If one of the Lyft services is currently under Prime Time pricing, it will have a small diagonal arrow symbol next to it. It's easy to miss, so watch out.
To select between the Lyft services, tap the circular car icon near the bottom of the screen, then select from the list of services.
Find the Cheapest Insurance Quotes in Your Area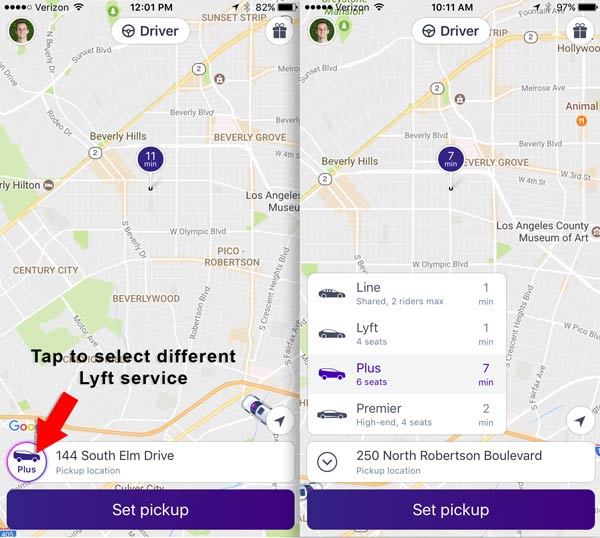 Set pickup location
Set your pickup location by dragging the pin to wherever you want to be picked up, then tap the Set pickup button. If you want to be picked up from your current location, don't move the pin. To move the pin back to your current location, tap the arrow icon in the lower right corner and the pin will reset to your location.
Select destination and see up front price
After you set your pickup location, an "Add destination" bar shows up. Add your destination by tapping that bar and entering an address or the name of a location.
Lyft will show you an up-front price after you set your destination. The best way to get a Lyft fare estimate is to simply enter your pickup and dropoff location and see what pops up. You can also add multiple stops if riders in your group plan to hop off the ride before the final destination.
Lyft passenger app menu items
To access the menu, tap the icon in the upper left corner. A menu will slide over the map.
The Free Rides section shows you how you can get free rides by referring new passengers to the app. Read more about tricks to get free Lyft rides
The Ride History section is a list of recent rides you've taken. See how much you paid, request a fare review, or try to a find a lost item.
The Payment area allows you to add and remove payment methods. You can also set a default payment method.
The Promos section is where you to enter a Lyft promo code to get a free ride.
The Help area shows your most recent ride, and links you to support articles at Lyft.com that aim to answer your questions
Lyft Driver app features
The Lyft Driver app is a special mode inside the regular Lyft app that is unlocked once you become a Lyft driver. If you're interested in becoming a Lyft driver, learn the Lyft driver requirements and apply.
The driver features of the Lyft app are pretty simple and straightforward, so you'll mostly be using the app to deal with ride requests. If you want more detailed looks into your pay, your profile, and your vehicle, the dashboard at Lyft.com is more in depth.
How to switch from driver to passenger mode in the Lyft app
After you've become a Lyft driver, you can activate driver mode in the Lyft app in two ways: Tap the "Driver" icon at the top of the home screen, or by opening up the menu and tapping the "Switch to driver" button on the bottom of the menu.
To switch from driver to passenger mode: Open the side menu and click the "Switch to rider" button at the bottom.
Home Tab
There are three main tabs in the Lyft driver app: Home, Earnings, and Referrals. Each is straightforward, but I'll describe everything you can do in each of those tabs in the sections below.
The Go Online button is in all tabs. Once you've tapped this button, you'll be able to receive and accept ride requests.
The map shows sPrime Time surge areas that are color coded to show how high the Prime Time surcharge is. The darker the pink color, the higher the Prime Time rate is.
Sometimes on the home tab you'll see an Updates overlay that has important alerts for you. I've seen alerts in the Updates box about tax info and a background check refresh.
Earnings tab
The earnings tab shows information about your daily and weekly ride earnings. It doesn't show referral earnings, and it doesn't give you an easy way to bring up information about one specific ride.
There is also a Weekly Acceptance Rate box that shows your running acceptance rate, which is a calculation of  rides accepted and completed divided by ride requests received. Requests that you cancel count against your acceptance rate. Your acceptance rate matters because you need to keep it above 90% to qualify to earn incentives like the Power Driver Bonus.
Referrals Tab
The referrals tab displays your Lyft promo code and shows you how much you can earn by referring new drivers and passengers in your area. You may not be able to earn cash by referring new passengers in your area, so the Referrals tab is the best way to find out if you can, and how much you'll earn if you do.
This tab also has the Referrals in progress area, which shows where your drivers referrals are in the application process and how much you'll earn when they complete the bonus requirements. You'll see if your referrals have applied, then you'll see how many rides they've completed and how many they need to do to trigger the referral bonus.
Lyft Driver app menu
The app menu in the Lyft driver app is different from the menu in the passenger app. The driver menu is more focused on ways to manage things important to your driver account like vehicle options and app settings.
The Dashboard section links out to the full lyft.com online dashboard. The Dashboard is the best place to manage your account and get support.
The Vehicle section shows your active vehicle and allows you to switch to another vehicle profile if you have one. Tap your vehicle to view and modify your documents  like insurance and inspection. You can also add a vehicle from this section.
The Help section links you to the Help center, roadside assistance, a ride walkthrough, and a few other options. The Help Center contains support articles and ways to contact Lyft. The roadside assistance section links to you an Allstate roadside assistance program and the Critical Response Line.
The Settings area shows your profile info and allows you to adjust your navigation preference, toggle a high earnings alert, and set up the Amp light.
How does the Lyft driver app compare to the Uber driver app?
Most rideshare drivers will drive for both Lyft and Uber, so eventually you'll need to understand the ins and outs of both apps. Generally speaking, I think that that the Uber driver app is better than the Lyft driver app because it allows you to do everything driver-related all inside in the app. The Lyft driver app doesn't allow you to view and manage nearly as much information as the Uber driver app.
Here are two main differences between the Uber and Lyft driver apps that make a big difference
You can message Uber inside the Uber driver app and manage all of your support messages from the app. You can't do that with the Lyft app.
The Uber driver app shows your ride earnings in complete detail, and allows you to report issues with individual rides directly inside the app. You can't do that with Lyft.
The Uber driver app displays much more detailed surge information that shows the exact surge rate. Lyft only shows general color-coded squares that don't tell you exactly how much the surge will be.
In the end, both Lyft and Uber offer some kind of online way to do just about everything that you could ever need to do. But with Uber, if online help fails you, there are in-person offices to visit. Lyft doesn't offer those, and it can be a major source of frustration if you're having trouble getting started or if you've been deactivated.