Finding out how much Uber drivers actually make isn't very easy. The information Uber publishes about driver income is usually misleading, and most of what's available online comes from drivers who use optimistic numbers to try to sign up new drivers. And on driver forums and Facebook groups, drivers either post their worst day ever to complain or their best day ever to brag.
My goal is to compile enough data to show how much real Uber drivers in the US make right now. I created an easy earnings survey that asks drivers to show how much you've made, how much Uber takes out, and how much you're left with in the end.
After hearing back from drivers, I've come up with some preliminary driver earnings data that gives a fairly wide-reaching look into how much drivers actually make.
How much Uber drivers make in the US
The Uber drivers I surveyed make $15.73/hour before expenses
Drivers make $11.93/hour after subtracting vehicle running costs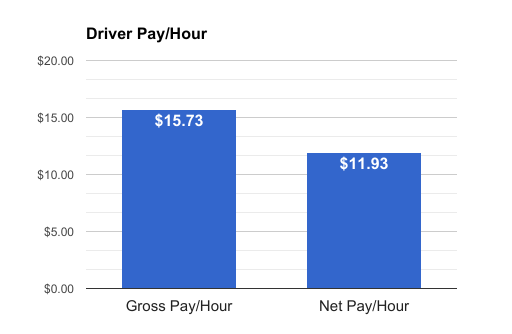 For the rest of the article I'll explain what kind of data I gathered, how I got those numbers, and what areas of driver pay I want to explore next.
Drivers gave me tons of great, detailed data – Thank you!
I'm very grateful to report that drivers put in over 50 entries into my survey — enough to help me come to some pretty interesting conclusions that make a broad statement about how much drivers make today. View the raw response data. I got a massive amount of data that represents a huge amount of work from drivers. You guys are out there putting in tons of hours, tons of miles, and tons of trips, and I couldn't have created any of this info without you. You can view the survey responses.
Some notes on my methods – I did my best, but I'm not a statistician
I've done my best to do a complete and accurate look at driver income, but I'm not a statistician or a finance expert. I used simple math and simple sampling techniques to reach my conclusions. The survey results and my calculations are publicly available for all to see, so if you see any flaws in my techniques, please let me know! You're also free to download the data yourself and work it however you'd like.
Drivers reported their income, uber's fee, and their total pay. I had to eliminate a few entries where the math just didn't add up. I think that most discrepancies were because of the way I designed the survey. I didn't included every possible expense or income category, so drivers may have left off a figure that wasn't possible to enter, leading to a discrepancy between income, uber's fee, and final pay. Drivers reported their income after Uber's fee, and I tabulated the same number based on what driver input. The number I calculated was 98% the same as the numbers they gave, so I consider much of the data that they input to be accurate.
Find the Cheapest Insurance Quotes in Your Area
Your own earnings may be different from the figures I calculated
Whenever a driver shares how much they make, or whenever someone attempts to create a broad look at driver earnings like the one I've done here, drivers chime in to say how different their own results are from the reported figures. If your own experience of Uber is way different from what I've reported here, please enter how much you make into my survey so my calculations reflect your experiences. Add to the data, and add to the conversation.
Total data collected in the earnings survey
| | |
| --- | --- |
| Hours Worked | 1,108.59 |
| Completed Trips | 1,959 |
| Miles Driven | 21,035.98 |
| Fare Earnings | $20,217.74 |
| Surge Earnings | $1,935.21 |
| Boost Earnings | $464.86 |
| Bonus/Incentive | $590 |
| Other Earnings | $223.62 |
| Uber Fees | $5,634.93 |
| Gross Earnings – Fees | $17,435.47 |
Seeing all those numbers calculated makes you realize how massive industry this is and how much of an impact it has on drivers. It might seem obvious to say, but every number I listed above was 0 only a few years ago, and now today thousands of rides are being given, and incredible amounts of of money are flowing – both into driver pockets and into Uber's pocket.
How much Uber drivers make before vehicle running costs
How much the average driver makes is the big question I wanted to answer, so I began by calculating gross earnings, before expenses. I made the decision not to collect expense information in the survey because I thought expenses would add a level of complication that would make the data really hard to work with. All along my plan was to use a generalized expense number to help me come up with a net earnings figures that I think represents most drivers out there.
My data shows that the average driver survey makes $15.73/hour and $0.83/mile before accounting for vehicle expenses.
| | |
| --- | --- |
| Gross Pay/Hour | $15.73 |
| Gross Pay/Mile | $0.83 |
| Gross Pay/Trip | $8.90 |
My take: The gross earnings data I collected falls somewhat in line with the rosy earnings data put out by Uber and drivers who don't report their expenses when they share their income data online. Over the years we've heard Uber throw out numbers like $It's easy to think of year earnings that way because that's how the Uber driver app reports them! You go out to drive, open up the app, and see how much Uber is sending you for your day of work. It's easy not to factor your expenses into that because you wouldn't do that with most other jobs.
But expenses in this job can be massive. There's gas, wear and tear on your car, depreciation, cleaning and upkeep expenses, and unexpected odds and ends that you have to buy along the way.
My next step was to factor in expenses to give the true picture of driver take-home pay.
How much drivers make after factoring in vehicle running costs
After accounting for vehicle running costs, the drivers I surveyed make around $11.93/hour and $0.63/mile.
| | |
| --- | --- |
| Gas, Maintenance, Tires, Depreciation | $0.20/mile |
| Total Vehicle Expenses | $4207.20 |
| Net Earnings | $13228.27 |
| Net Pay/Mile | $0.63 |
| Net Pay/Hour | $11.93 |
I'll admit that accounting for vehicle running costs was a challenge for me, so I used some data from The Rideshare Guy to help me out. Harry accounted for gas, maintenance, and depreciation and came up with running costs of $0.20/mile. I thought his vehicle and his experience are pretty representative of the average vehicle that drivers use, so I went with this number.
Vehicle expenses may be higher or lower than his figure, but it gave me a broad starting point to help figure out what a large population of drivers might be paying out of pocket.
A big note: I didn't include car payments or insurance in these vehicle expenses. Including these wouldn't definitely affect the net income figure I got too, but there's so much variation from driver to driver that I couldn't figure out a smart way to include car payments and insurance payments into this study. Some drivers use cars they already own and don't buy any extra insurance, while others buy cars specifically to do Uber and add on rideshare insurance policies. For a big, broad study, I couldn't figure out a good way to account for all of those variables.
I haven't factored in taxes
I have not included taxes in my study – yet. I'm still researching the best way to tackle the tax issue, and once I figure out the best method I'll update this post. I use an accountant to do my own taxes, and I'll admit that I don't always fully understand exactly how things play out.
I'm open to input, so if you have any suggestions on how I should tackle the tax issue, please leave a comment.
Where Uber driver income comes from
We all know how many incentives Uber throws at drivers to convince us to get on the road and stay there. Between surge pricing, huge sign up bonuses, and regular incentives, it seems like there's always another way to pad your fare earnings with bonuses. But how much do drivers actually make from those incentive programs?
| | |
| --- | --- |
| Fares | 86.28% |
| Surge | 8.26% |
| Boost | 1.98% |
| Bonus/Incentive | 2.52% |
| Other | 0.95% |
My take: Despite all the hype from Uber about surge pricing and other incentives, in the end most drivers make the majority of their money from fares. At 8.3%, it's almost like surge pricing is the tip that most drivers hope to get from passengers (but rarely receive).
Other bonuses and incentives like boost pay don't seem to be making a significant dent in driver income quite yet, but it's possible that I haven't gathered enough data from the cities that run those promotions.
There are a few ways to look at these proportions. One one hand, you might think it's a good thing that gimmicks don't make up the bulk of driver income. Fares alone should be enough to make this job worth it.
On the other, most drivers think that pay has dropped so low that surge, boost, and other incentives are absolutely necessary to make this job profitable. For many drivers, a day without surge or boost isn't a good day. From that perspective, surge and boost are far too low as a percentage of total income. It's also disappointing to see that for all the baiting that Uber does to get drivers on the road, in the end boost and surge doesn't put a huge dent in driver pay. These incentives clearly are designed to get drivers on the road, not reward them with massive earnings.
Future info I hope to add to this page
I'm satisfied with the conclusions I've come to so far, but this project is far from over. I'm going to work to get more and more drivers to share their earnings so I can get an even clearer picture of driver earnings as time goes on.
The next questions I want to tackle with data from this survey are:
How does Uber driver income breaks down city to city?
How much do drivers pay in taxes?
How is driver pay changing over time?
This project isn't done – I still need your help!
By sharing your earnings info, you're helping yourself, other drivers, and drivers who are thinking about trying Uber. With constant rate cuts and more and more complicated incentives, clear income information is more important than ever.
Take my Uber driver earnings survey (No longer available while I redesign the survey)
Even though I've come up with preliminary data about Uber driver income, I want to keep collecting data from drivers so I can update my findings. The more data I get, the more accurate my numbers will be!
The survey should only take a few minutes to complete. I don't ask for any personal information or your email address. All survey responses will be visible online.
You're doing a big service to the ride share community by participating in this survey. You'll help other drivers know how their earnings compare, and you'll help potential drivers find out if it's actually worth it to drive for Uber in their city.