Did you know that Lyft can have more than 6 ride types in some cities?
Each ride type has a different cost, a different maximum passenger capacity, and a different purpose.
So how can you tell which ride is right for you?
What you need to know
A standard Lyft has room for 4 passengers
Lyft XL seats 6 passengers
Lyft Lux, Black, and Black XL are luxury rides
Ride types with more amenities cost more than a standard Lyft ride
Read on for more details about each ride type and how Lyft works.
Lyft promo code '9MQ5JB' works for all Lyft services in the US!
The difference between Lyft, Preferred, Lyft XL, and Lyft Lux
Lyft seats up to four passengers
Preferred is newer vehicles with more legroom and highly-rated drivers
Lyft XL seats up to 6 passengers in a minivan or SUV. More expensive than regular Lyft
Lyft Lux is a high-end sedan that seats 4 passengers
Lyft Lux Black & Black XL is the most expensive Lyft option. New luxury sedans & SUVs with highly-rated drivers
If you're in a group of 4 or fewer, request a regular Lyft. If your group is 5 or more, request a Lyft XL.
How to select between Lyft ride types
On the home screen of the Lyft app, input your destination to see all available ride types and see a fare estimate.
Scroll to see different options and tap 0n the ride type you want.
The text in the request button will change to your selected ride type, which is a good way to confirm that you're getting the ride you want.
Lyft: The standard ride
A Lyft is the standard service that offers a personal ride with seating for 4.
It is the default type when you open the app. As one of the cheapest ride types, it's a popular option for Lyft users.
Lyft Priority Pickup and Wait & Save
In some markets, the Lyft ride type offers extra options called Lyft Priority Pickup and Wait & Save.
With Priority Pickup, you can pay more to get a faster pickup time. The app will let you know how much faster the wait time will be.
Typically Priority Pickup costs a few dollars more than a standard Lyft.
Wait & Save gives you a discount for waiting longer for your ride to arrive.
Lyft Preferred: Newer cars, control over temperature and noise
Note: Lyft is ending Preferred & Lux on October 18th 2023
Lyft Preferred is a premium service that offers newer, spacious cars and highly-rated drivers. Preferred cars must be model year 2015 or newer with more legroom than smaller sedans.
Preferred drivers must maintain a 4.9-star average, so you can expect a more professional experience.
Preferred also gives you more control over the ride experience.
For example, you can select your temperature preference and choose an option to let the driver know that you prefer a quieter ride.
Lyft XL: For larger groups
Lyft XL is for groups of up to 6 passengers. When you request a LyftXL, the vehicle will be a minivan, small SUV, larger crossover, or full-size SUV. It is a good option for large groups, transporting luggage, or trips to the airport.
Lyft XL costs more than a regular Lyft. Lyft XL drivers receive ride requests for both regular Lyft requests and XL Lyft requests, so it's possible to get an XL vehicle even if you request a regular Lyft.
Lyft Shared: Get a discount for carpooling (Discontinued)
Note: Lyft Shared was discontinued in May 2023. It is no longer available.
With Lyft Shared, you share your ride with another passenger heading in the same direction.
Shared Lyft prices can be significantly lower than regular Lyft rides.
Lyft promises at least a 12% discount, but the Shared ride discount can be as high as 30%. It is similar to UberX Share.
Your driver might pick up and drop off other passengers along the way, so be aware that a Shared Lyft may take longer than a normal Lyft.
Lyft Lux: Entry-level luxury
Lyft Lux is a higher-end option that gives you a ride in a newer luxury sedan with a leather interior (think Audi, Mercedes, BMW, Jaguar, Lincoln, etc).
Drivers must maintain a high average customer rating to qualify for Lyft Lux, so expect premium customer service.
It is one of the more expensive Lyft services, and it's comparable to Uber Premier or Uber Select.
Lyft Lux is not available in every market, so head to Lyft.com/cities or check the Lyft app to see if you can request a Lux.
Lyft Lux Black and Lux Black XL: A high-end experience
Lyft Lux Black and Black XL are the most luxurious and expensive services that Lyft offers.
Only high-end luxury sedans and SUVs qualify for Lux Black and Lux Black XL.
Lyft Black drivers must maintain an average rating of 4.7 stars or higher, which is higher than the standard required driver rating of 4.6.
Lyft Black is comparable to Uber Black and SUV.
Lyft Lux Black and Lyft Black XL are not available in every city, so check the Lyft app or Lyft.com/cities to see if Lux Black and Black XL are available in your location.
Lyft Bike & Scooter
With Lyft scooter and bike, you can rent an electric scooter or bicycle to ride around town.
It is similar to other scooter companies like Bird or Lime: You use the Lyft app to locate and rent scooters.
Lyft vs Uber ride types
Lyft and Uber both offer several similar ride types, but they use different names. Here's a quick comparison guide.
Lyft is similar to Uber X
Lyft Preferred is similar to Uber Comfort
Lyft XL is similar to Uber XL
Uber Select is similar Lyft Lux
Lyft Black and Black XL are similar to Uber Black and Black SUV
Read about the differences between all the Uber services.
About Lyft pricing: How Lyft calculates ride prices
Lyft prices are calculated based on an algorithm that factors mileage, time, fees, and local market demand.
Lyft gives an upfront price estimate for every ride. All you have to do is enter your destination to see the exact price for the ride.
Lyft will honor the upfront price as long as your ride isn't significantly longer than the estimate.
Prices are typically competitive with Uber X, so it's smart to bounce between the apps to find the best price.
If you're ever overcharged by Lyft, you can request a fare review in the help section of every ride receipt.
How to schedule a Lyft ride
You can schedule a Lyft if you prefer to arrange your ride in advance. You can schedule a ride up to 30 days ahead.
To schedule a ride, input your pickup and drop-off locations, then tap the 'schedule' button that appears near the "Select Lyft" button.
Pick a date and time for your pickup, then confirm your details.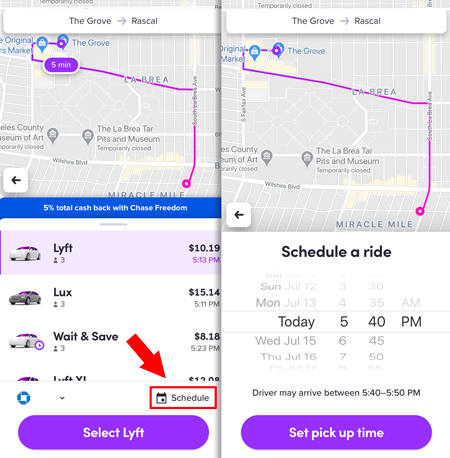 How to cancel a scheduled ride
After you schedule a ride, a new calendar icon will appear in the top corner on the home screen of the Lyft app.
Tap the calendar icon to view and manage your scheduled rides. Find the cancel button listed beneath each scheduled ride.
One word of warning: Cancellation fees are higher for scheduled rides, so make sure to cancel more than one hour before your scheduled pickup time. Learn more about Lyft cancellation fees.
Which Lyft ride type is best for the airport & travel?
Getting the correct ride type is especially important when you're traveling with luggage.
A standard Lyft should be able to accommodate 2–3 passengers with carry-on luggage.
A Lyft XL is the right option if you have checked bags or a larger group.
Try Lyft with promo code '
9MQ5JB

' — Works for all new users!

Give Lyft a try! If you've already requested a Lyft, try one of our tricks for existing users to get more free Lyft credits.