Does Uber allow dogs? It's becoming more common for people to travel around the city with dogs, but are you allowed to bring your dog or cat into an Uber?
Most Uber drivers will allow you to bring a small pet into their car, but drivers expect you to call them in advance to ask for permission. If you don't ask for permission, expect to get a low rating from that driver and don't be surprised if the driver turns down the ride when they pull up and see you with a dog.
If you have a service animal, the driver is obligated to allow it in their car. Drivers are not allowed to make you prove your disability, but they may ask you if the dog is a service dog, and if you say that it is they must take the dog in their car.
Uber allows passengers to bring dogs, but follow these tips
Most drivers don't mind if you bring a well-behaved animal into your car as long as you're courteous about it. Let them know in advance and make sure your animal is clean and well-behaved.
After you request your ride, call the driver and ask them if it's ok if you bring a dog. If they say no, cancel the ride immediately and you won't be charged the cancellation fee. Wait a few minutes and try requesting another ride
Request an UberX, not UberPOOL. POOL is a shared ride and is not appropriate for transporting animals, unless it's a service animal
Bring a clean blanket or towel to lay down on the seat
If you're transporting a cat, it should be in a carrier
Larger dogs belong in an UberXL
You will be charged a cleaning fee if your pet leaves a mess or damages the car
The same rules apply to Lyft
"The only time I am annoyed about a dog is when the passenger does not ask." – An Uber driver
Remember: Just ask! Most drivers allow dogs in their car as long as you give them a heads up. You are riding in their personal car, so be considerate.
Uber drivers are required to accommodate service dogs
The Uber terms of service has rules around service animals that all drivers have to follow:
Drivers must accommodate service animals
Service animals don't need to have an identifying collar or vest
Drivers can ask you if your animal is a service animal, and if you say yes they must accommodate it
Drivers can't ask you to prove your disability
Drivers can't use allergies, fear, or religious objection as a reason to deny a service animal
As a driver, you may be asked inside the app to agree to the service dog policy. If you don't, you can't sign into the app. And if you violate the policy, you can be deactivated. Here's what drivers have to agree to: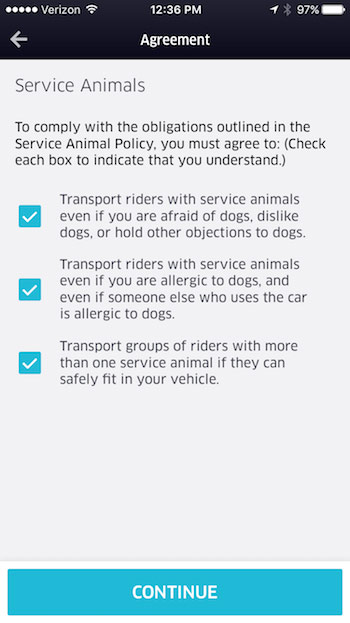 Try Uber for free: Promo code
cws7s2

works for all Uber services!

More information for Uber passengers: