"How much do Lyft drivers really make?" That's the #1 question I get from everyone — passengers, friends, family. Lyft makes bold claims on their website in size 100 font — "Make $35/hour driving your own car!" $35/hour? Some PhD's don't even get paid that much! What's the reality here? What can you expect to be paid when you drive for Lyft?
Lyft driver pay photo dump!
I make $20 – $30/hour driving for Lyft. But am I special? What about other Lyft drivers? Fellow Lyft drivers share their earnings online, and I've collected screencaps to show you how much income Lyft drivers really make.
$24.70/Hour
$18.17/Hour
$25/Hour
$24/Hour
$24/Hour
$37/Hour
$41/Hour
$28/Hour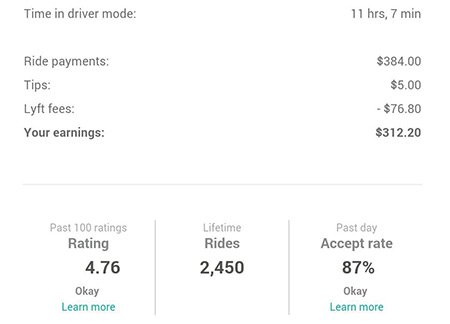 $17/Hour
Breaking down the numbers: Real Lyft driver income
There are two big things to take into account when you're calculating Lyft driver income: Taxes and gas.
Taxes – Depending on your tax bracket, expect to pay around 15% of your income, even after write-offs. Here's a worksheet that help you estimate Lyft taxes.
Gas – Fuel costs for most modern fuel-efficient cars used by most Lyft drivers are 10% or so each day.