It's happened to thousands of Instacart shoppers: You open the app to start shopping for the day only to see a message that your account is deactivated, or 'under review.'
"Deactivated" is gig economy lingo for a more familiar term: Fired! When Instacart deactivates your account, you can't shop and you can't earn.
Deactivations can happen without warning. And to add to the frustration, Instacart won't always give you an exact reason for your deactivation.
There's good and bad news: It's possible to get your account back, but Instacart does not always give every shopper a second chance.
Read on to learn the common reasons for deactivation, how to get reactivated, and what you can do to avoid losing your shopping gig!
What you need to know
Instacart shoppers can be deactivated for violating the terms of service
Common reasons are: Too many undelivered orders, customer complaints, and fraud
If your account is 'under review,' contact Instacart for more info and wait for updates
To get reactivated, contact Instacart and ask them to review the decision
Contact Instacart trust and safety at:

[email protected]
Deactivated by Instacart? Try Uber Eats instead!
Article contents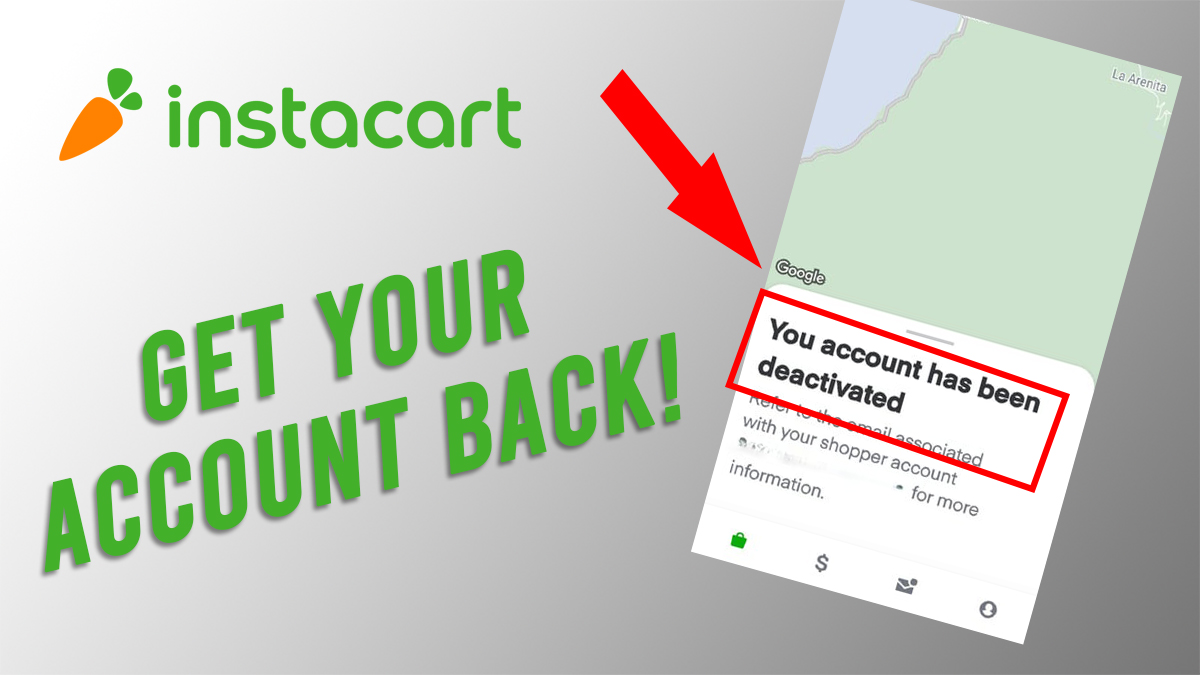 How to know if you've been deactivated
You will receive an email and an in-app notification when your account is deactivated. The in-app message says, "Your account has been deactivated," and it will tell you to refer to an email from Instacart with more info.
The deactivation email generally begins with "Your shopper account has been deactivated due to…." and then gives a reason for your deactivation.
"Your account is under review"
Instacart might temporarily place your account under review if you have been flagged for a contract violation. You will see an in-app message that says, "Your account is under review."
The message may tell you when you can start shopping again, but the review can also result in deactivation.
Instacart doesn't always say why your account is under review. You can contact Instacart to ask for more info, or you can wait for an update.
Watch out for any emails or messages from Instacart asking for more info. You may need to provide more detail about a delivery.
If your account is still under review after several days, contact Instacart support and ask for more info.
Why Instacart shoppers get deactivated: The top reasons
Cancelling too many batches, especially cancelling after checkout
The maximum cancellation rate is 15%. If you accept and cancel more than 15% of your orders, you are at risk of deactivation.
Your account can be immediately put under review for 24 hours if you cancel an order after checkout. If you need to cancel during the delivery process, it's best to contact support and have a chat agent cancel it for you.
Try to save your cancels for the worst of the worst batches. Once you learn the difference between a bad and a good batch, you're less likely to cancel a batch after accepting it.
A tip for double and triple batches: You can contact support to remove part of the batch without harming your cancellation rate as long as you remove it before checkout.
Too many reports of undelivered/missing orders
You might be deactivated if too many customers report that they never got their delivery. One or two of these complaints may not lead to deactivation, but any more than that and you risk deactivation.
One problem is that dishonest customers can try to get free groceries by fraudulently reporting a missing delivery. Protect yourself by taking pictures of every delivery. For a 'hand it to me' order, try to get some photo proof even if you can't leave all the items on the porch.
Other serious customer complaints
Instacart may disable your account if a customer makes a serious complaint about you. For example, a customer might complain about an argument, fight, confrontation, unwanted contact, or some other inappropriate behavior.
You will get a chance to tell your side of the story, so there's a chance of reactivation if this was an isolated incident and if there's no proof in your chat with the customer.
Failing a background check
Instacart occasionally reruns your background check and motor vehicle report—the exact frequency depends on your state.
You can be deactivated if Instacart finds new issues that don't meet their background standards.
Many shoppers end up deactivated for driving record issues. If you've received a few tickets since your last background check, there's a chance you can be deactivated.
It's even possible to be deactivated for an issue that was already on your record when you were first accepted as a shopper. Background check standards may change, or the person reviewing your case may come to a different conclusion.
Identify verification: Failing the selfie photo test
Instacart uses a photo detection system to verify that you are the authorized account holder. This is to prevent you from sharing your account with an unauthorized person.
But the selfie test is an imperfect system, and shoppers sometimes fail the selfie test. Something as simple as bad lighting or a new haircut can cause you to fail.
When you fail the selfie test, you can be reactivated by following steps to upload more photos and more identification.
Sharing your account is prohibited. You can get caught by a selfie test, or you can be reported by a customer. Customers want the person dropping off the groceries to match what they see in the app.
Unauthorized purchases with the payment card
You are only authorized to purchase items from the customer order. You will be deactivated if you get caught purchasing items for yourself—that's obvious.
But you can also be deactivated for unauthorized replacements, or for replacements that are significantly more expensive. More on this below.
Bump abuse: Asking for unjustified bumps, or too many
You can ask for a pay bump if heavy pay is missing or when a batch is cancelled after you've already picked out items or started the delivery process.
But if you abuse the bump system, you can be deactivated. Some shoppers ask for bumps when they don't deserve them, but it can feel unfair if all of your bumps were justified, but you still get deactivated.
Instacart support detects account fraud (sometimes to protect you from scammers)
Scammers pose as customers or support reps in an attempt to access your account. Your account may be locked or deactivated if Instacart detects that something fraudulent happened with your account.
This could actually be in your benefit if it stops a scammer from accessing your account. This deactivation is likely to go away on its own once Instacart investigates.
Other fraud
There are countless ways to cheat the system. Usually, the end goal is to make more money by manipulating bonuses, or to get free items. You'll get canned if you get caught.
The most frustrating thing about fraud accusations is that Instacart usually refuses to go into any detail about the fraud. So if you are genuinely innocent, it's hard to defend yourself.
(Not verified) Giving chat agents a bad rating
Many deactivated shoppers claim they lost access to their accounts after leaving a bad rating for a support agent.
It's not a 100% verified claim, but some shoppers refuse to leave less than 5 stars for their chat agent out of fear of retaliation
Support reps have the power to flag your account or even deactivate you, so try to choose your words wisely!
What's going on with deactivations for unauthorized purchases?
In late 2022 and early 2023, an unusually large number of shoppers reported that they were deactivated for unauthorized purchases with the Instacart payment card.
The main claim from Instacart was that the final payment didn't match the expected payment. That could mean certain replacements were too expensive or that shoppers added items to the order without authorization.
In most cases, the batch had occurred several months before, making it hard to remember details. Some shoppers keep photos and receipts, but not for months.
The outcome wasn't great for many shoppers—few followed up to say they had been reactivated.
If this happened to you, try your best to get receipts from the store to prove that the order matched the customer's requests. A store manager may be able to help you find the receipt for your order.
Is it possible to be reactivated?
Being reactivated on Instacart is possible: You can get your account back! If you follow up with Instacart support, they may rule in your favor and allow you to start shopping again.
But that doesn't mean every deactivated shopper will get a second chance. Some deactivations are permanent.
Here's an example of a shopper who was reactivated:
How to get reactivated: Appeal your deactivation
It is possible to get reactivated following a deactivation. Most of the time, you need to take action to get your account back.
The first step is to look for an email from Instacart that will be sent to the email address connected to your shopper account.
The email may have more information about your deactivation. Reply to the email and give Instacart more information about the situation and ask to be reactivated.
Gather your thoughts and any information that might support you, then follow the steps in the deactivation email.
If the email and app notifications don't contain any more info, contact support to ask for the details.
You may need to contact the trust and safety team at: [email protected]
Only reach out directly to the trust and safety email address if you can't access the support chat in the app, or if Instacart hasn't responded to you for a long time, more than 3–5 days.
Try not to send too many messages to support. One shopper said that they got an email asking that they stop contacting support for updates. Don't bombard support. Be patient and wait for a response.
Tips to get reactivated
Quickly follow up with any messages you get from support
Closely follow any directions and requests from support
Present your case without sending unnecessary details
Provide proof if possible: Photos & screen caps of the order, photos of receipts, screencapss of chats with the customer, etc.
Ask for an update if it's been more than 3–5 days without an update from support
Support says the decision is final? Try anyways
It's worth contacting support even if they say the decision is final. You never know if they might reconsider. But that doesn't mean you should bombard Instacart with messages. Be patient and considerate.
How to defend against false accusations from customers
If you were wrongly deactivated due to false accusations from a customer, you will have to tell your side of the story to support.
For false reports about a missing delivery or missing items, share any photos that you took of the delivery that can prove that the accusations are false.
False accusations are one the most frustrating situations on Instacart, and you have to hope that your track record will motivate Instacart to rule in your favor if a customer makes a false claim against you.
Not making any progress? Try Twitter
Send a direct message to @InstacartHelp to get the ball rolling. Some shoppers report that Instacart report is more responsive on Twitter.
How to contact support outside of the app
Generally, you need to log into the Instacart app or website to contact support. But what if you can't log in?
Contact support without logging in: In the shopper app, tap login > log in with password > forgot password > tap the headset icon in the upper corner. That will connect you with support.
You can also directly contact Instacart trust & safety: [email protected]
You are less likely to be reactivated for these reasons
It may be possible to get reactivated in some cases, but your chances of getting your account back aren't strong if Instacart deactivated you for the reasons below.
High cancellation rate/low customer ratings: Instacart strongly warns you when your cancellation rate is getting too high, so they don't offer many second chances if you don't bring it down.
Confrontation with a customer that can be proved from chat logs/photos/videos: Your appeal probably won't be successful if you fought with a customer and they can prove it.
Failed background check: You're not likely to get a second chance if a background check refresh turns up new issues on your criminal record or motor vehicle record. Instacart can even deactivate you for something already on your record when you first applied.
Frequent reports of missing deliveries: One or two missing deliveries likely won't trigger a deactivation. But Instacart may not give you a second chance once you have several on your record.
Can you make a new account and start fresh?
You can't get around a deactivation by creating a new account. Accounts are tied to your SSN, and you need your SSN to do the background check.
A new email address and phone number are not enough to trick the system. And even if you somehow create a new account, Instacart will eventually detect the duplicate account and deactivate you again.
How to prevent deactivation: Protect your account
Not every deactivation is unavailable, but you can protect your account by following these guidelines:
Don't cancel too often. Don't let your rate get above 10%
Keep your ratings as high as you can. Contact support to get unfair ratings removed
Take photos of all completed orders, even for 'hand it to me' orders
Keep receipts for orders that had unusual replacements or high-value items that a customer might dispute
Never argue or escalate with a customer. If a customer is rude, contact support and cancel instead of arguing
Take verification selfies in good lighting, and try to make them look similar to your profile picture
Proactively contact support whenever things go wrong. Leave a paper trail that you can point to later
Follow the rules! Don't try to trick the system
Do you have any legal options? Arbitration and lawsuits
If you think you were deactivated unfairly, you might want to consider your legal options. Can you sue to get your gig back?
Unfortunately, your legal options are limited by the arbitration clauses of the independent contractor agreement you signed when you first started as a shopper.
All disputes must go to arbitration, and any potential outcomes are limited by the agreement. The agreement is heavily in their favor, giving them the ability to deactivate you for many reasons.
However, if you were deactivated due to false information on your background check, you may have more legal options.
You can reach out to Checkr to correct the false information, and if Instacart doesn't reconsider your deactivation, contacting a lawyer may be a good idea.
But other than the very specific case of background check information, your legal options are limited to arbitration.
Deactivation stories from real shoppers
Can't shop for Instacart? Try these gigs instead—and always have a backup!
There are other gigs that offer just as much flexibility as Instacart. And deactivations can happen any time, so it's important to always have a backup!
There's not much reward for loyalty in the gig economy. Shop around and find what works for you!
More reading for shoppers