"Can I drive with Lyft with my car? Does it meet the requirements?" Finding out if your vehicle qualifies is one of the first steps toward becoming a Lyft driver. If you think your car qualifies and you want to drive, get started with Lyft now! I may receive a commission if you sign up using my link.
The guide below covers the most up-to-date Lyft vehicle requirements. Does your qualify? Lyft ultimately holds the power to decide if your car qualifies or not, so use this post as a general guide to decide if you should apply to drive or not.
Lyft offers several different levels of service, each with different vehicle requirements. Learn the difference between Lyft, Lyft XL, Lyft Lux, and Lyft Black Lux, and then use this article to see which service your vehicle qualifies for.
Article Contents
Lyft Vehicle Requirements: Does Your Car Qualify?
This is the list of car requirements for regular Lyft service. Scroll down to see vehicle requirements of other Lyft services such as XL and Lux.
Vehicles that don't qualify for any Lyft service
Full-sized vans (12 or 15-passenger vans like Ford Transit and E-Series, GMC Savana)
Salvage title or rebuilt title, even if the vehicle is in great condition
Taxis and other commercially-marked vehicles
Some subcompact models
How to Drive With Lyft When You Don't Have a Car
You can proceed with the Lyft application even if you don't currently have access to a qualifying vehicle. To apply without a car, get started with the Lyft application and select "I need a car" on the application page. That will allow you to complete the background screening process before you go through the trouble of accessing a car.
When you select the "I need a car" option, Lyft will send you information about their Express Drive rental program, which offers applicants rental cars. You may need to pay a deposit to view rental cars, but you can always choose to refund the deposit if you don't want to use a Lyft rental.
Find the Cheapest Insurance Quotes in Your Area
Lyft XL Vehicle Requirements – Minivans And SUVs For Groups of 5 or More
Lyft XL accommodates larger groups of riders, 5 or more. Lyft XL costs around 1.5x the price of a regular Lyft, so a vehicle that qualifies for XL has higher earning potential than a regular Lyft car.
Must seat 6 passengers
Same model year requirements as regular Lyft
Lyft XL drivers receive ride requests for both XL and regular Lyft rides. You can't choose to only receive XL requests
If you car qualifies for XL, your driver profile be automatically enabled to receive Lyft XL ride requests. If you think your car qualifies for XL but you're not getting XL requests, contact Lyft and ask to receive XL requests.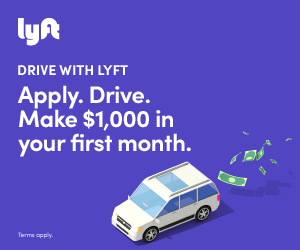 Lyft Lux Vehicle Requirements
Lyft Lux is a higher-cost Lyft service for customers who are willing to pay more to get a ride in a nicer vehicle. Lyft Lux vehicles are typically entry-level luxury models and above.
Must seat 4 passengers
2013 or newer
Luxury vehicles from these brands: Acura, Audi, BMW, Cadillac, Infiniti, Jaguar, Land Rover, Lexus, Lincoln, Mercedes-Benz
Other vehicles qualify: Full list of vehicles eligible for Lyft Lux
Lyft Lux Black and Lux Black XL vehicle requirements
Lyft Lux Black is Lyft's highest-end service launched to compete with Uber Black. It's the most expensive service, so it has the potential for higher earnings than any other Lyft service. Vehicle requirements are the most strict for Lux Black and Lux Black XL, and in order to be eligible you must maintain an average driver rating of 4.7 or higher.
2015 or newer
Black exterior
Leather or leather-like material only. No cloth interiors.
Driver must maintain an average rating of 4.7 or higher.
Lyft Lux, Lux Black, and Lux Black XL drivers can choose to only receive ride requests for the higher-end services by going to Vehicles area of the Lyft Driver app and changing the Ride Preferences setting.
Restrictions on subcompact cars: These cars are too small for Lyft
Beginning in early 2019. Lyft released a list of ineligible subcompact vehicles. Lyft considers these vehicles too small to give customers a good experience. If you are already a Lyft driver and you use a vehicle from the subcompact list, you will stay grandfathered in. But if you're signing up as a new driver, you won't be able to use any of the vehicles listed.
Some common subcompact models that are no longer eligible are: Chevy Aveo, Ford Fiesta, and Hyundai Accent.
Will Your Vehicle Pass The Lyft Inspection?
Before you can start driving for Lyft, you will need to have a state-certified mechanic perform an inspection on your vehicle. You will receive further instructions on how to get the inspection done after you apply. The Lyft inspection checks for the following:
Tires: Need sufficient tread. On a US penny, tread must reach Lincoln's head
Windows: Free of major cracks, no cracks in driver's field of vision. Windows must roll up and down
A/C and heat: Must be present and functioning
Wipers: Functioning and in good condition
Lights: All must function. Headlights, turn signals, brake lights, reverse lights
Horn: Must function
Seat belts: All must be present and functional
Seats: Front seats must move forward and backward
Body: Free of major damage or dents
Tailpipe/muffler: Must meet state standards
Read more: See the full Lyft vehicle inspection criteria
RideShare Mechanic
 does Uber & Lyft inspections via video chat. I may receive a commission from them for referring you.
Lyft Vehicle Requirements FAQ
My car is too old for Lyft but it's really nice. Will Lyft accept it?
Lyft makes no exceptions on model year requirements. Even if your older car is in pristine condition, Lyft will not accept it.
Do I need any special permits to drive with Lyft?
Most cities and states don't require special permitting to drive with Lyft, but some do. To see the exact requirements for your area, head to this page and scroll down to your state. Lyft will give you instructions on how to obtain any necessary permits.
How much body damage can my car have?
In the end, whether your car's damage is too severe is the decision of the person inspecting your car. When I began driving, they told us that fist-sized dings or dents were ok, but that anything more isn't acceptable. In the real world, most inspectors are ok with scratches and dings, but a massive dent or a piece of your car drooping/sticking out/obviously broken won't be accepted.
What about the other standards. Is there flexibility?
For standards like tires/windows/lights/AC & heat, there's not a lot of room for interpretation. You might be able to slip by with broken AC or a non functioning feature or two if the inspector doesn't look closely, but in the long run your passengers will notice and you'll get low ratings. It's better to fix your car now then to get hired only to get fired after your passengers complain about your car.
My car qualifies now, but can it become too old later on?
Lyft typically updates their model year requirement yearly and disqualifies cars that become too old. For example, if the model year requirement in your city is 2007 or newer this year, next year it might become 2008. In that scenario, a model year 2007 vehicle would become too old for the Lyft platform and no longer qualify. Lyft will typically warn you a few months in advance that your car is aging off of the platform.
Need a Car For Lyft? Rental Options
If you don't currently have access to a vehicle that qualifies for Lyft, there are several ways you can get one. Some drivers choose to buy an affordable car to use for Lyft, and others choose rideshare rental programs that offer weekly vehicle rentals. Rideshare rentals include insurance and unlimited mileage, so they're a good way to get started with Lyft without having to purchase a vehicle.
Does Your Car Qualify For Lyft?
Still not sure whether your car qualifies? You can apply to drive with Lyft and find out during the application process, or you can contact Lyft. There's no perfect online tool that can tell you for certain if your car qualifies or not. The only way to be certain is to apply and find out.
See the full list of Lyft vehicle model year requirements, and start driving with Lyft. If you use my link, I may receive a commission for referring you.