The Lyft app allows you to add one stop to your ride, for a total of 2 destinations.
Adding stops is a convenient way to pick up & drop off a friend, or do a quick errand.
And if you arrange it correctly, adding a stop makes it possible to make a round trip in a Lyft without requesting a second ride.
Keep in mind that stops should not exceed 5 minutes. After 5 minutes, your upfront price can increase, or your driver may end the ride and leave.
How to add a stop to a Lyft trip
Enter your final destination in the "Where are you going?" search bar on the home screen
Edit the trip by tapping on the address bar at the top of the next screen
Tap the + sign and enter the address of your stop
If necessary, rearrange the stops by tapping the button with two arrows, or tap the – sign to remove a stop
Once you have it set up correctly, request the ride.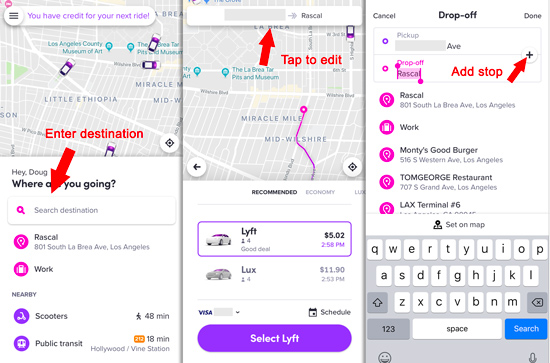 How much do extra stops cost?
Lyft will recalculate your ride price and give you a new upfront price after you add your stop,
There isn't a specific charge per stop, and there isn't a per-minute rate that you can use to easily calculate the cost of a stop.
How to do a round trip
Enter the location of the stop on the home screen of Lyft
Edit the trip by tapping the address bar at the top of the screen
Tap the + sign and add your home as a stop
Use the rearrange button so the ride order is: pickup location > stop location > home address
A round trip is a good idea if you plan a quick errand that won't take any longer than 5 minutes.
If you think your stop will take more than 5 minutes, expect to request a second ride home.
Your driver is not obligated to wait for you at your stop, and most drivers prefer not to wait at stops. So make it quick, or your driver will leave!
Related: How to do a round trip in an Uber
How to add a stop during a ride
You can add a stop while you already in a Lyft ride by tapping "Edit ride" then "Add a stop" in the ride information overlay.
Add your stop and confirm the changes. Your driver will receive an update in the app that will let them know where to stop.
If you don't add the stop in the app, your driver won't know where to go, and going off the original route might trigger safety flags. Always add the stop in the app.
It's a good idea to give your driver a heads-up about the stop. Most drivers don't like it when passengers quietly add a stop without saying anything.
You have 5 minutes at your stop—or less
Lyft asks you to keep stops under 5 minutes. After 5 minutes, the price of your ride may increase.
And even though Lyft says that you have 5 minutes at a stop, it's up to your driver whether to continue the ride or leave.
Your driver can end your ride at any time. They might decide to leave after you leave the car if they suspect your stop will be longer than 5 minutes.
Multiple stops etiquette: Don't make your driver wait!
Lyft makes it easy to add stops, but there are some things to remember if you want your trip to go smoothly.
Stops shouldn't take longer than 5 minutes. Drivers aren't paid very much to wait. And because of upfront pricing, they may not get extra pay if your stop is short.
Add stops before you request a ride. Drivers want to know about stops upfront. Adding a surprise stop during the trip is usually a red flag that you are trying to surprise the driver.
If you need to add a stop during a trip, do it in the app. Don't ask the driver to make a stop without adding it in the app.
Don't leave any belongings in the car while you are at a stop. Drivers don't want to be stuck with your things while they wait for you. Leaving your things behind to force your driver to wait longer is a trick that isn't likely to work.
Don't do long errands. Drivers won't wait for you while you shop for groceries, go to a busy bank, or disappear into someone's house for an unpredictable amount of time.
Only add stops for very short errands. Adding a stop is for quick errands like picking up & dropping off a friend, dropping off a pre-paid letter or package at a mailbox, or doing a quick round trip to a fast errand like going to an ATM.
You can't add multiple stops to a shared Lyft ride
Shared Lyft rides don't allow you to add any stops. If you need to stop on your trip, request a standard Lyft.
Learn about Lyft
Try Lyft! Promo code '
9MQ5JB

' offers a discount on your first ride (USA only)