How much will your ride with Lyft cost? Most people already know how much a cab will cost (too much), but not everyone can ballpark the cost of a Lyft. You can get a Lyft price estimate inside the app or on the Lyft website using their fare estimator tools. Lyft has up-front pricing inside the app, so if you set your destination, you're now able to see how much your ride will cost.
To get a price estimate and see Lyft rates, you can download the Lyft app and input your destination to see an estimate, or you can find your city at lyft.com/cities and use the on-page fare estimate tool.
Tip:
Lyft promo code '
LYFTRSD
' will give you a discount on your first ride!
Get a Lyft price estimate inside the Lyft app
In December 2016, Lyft added an upfront pricing feature that allows you to see how much your Lyft ride will cost before you make the ride request.
Open the Lyft app and input your pickup location or drag the pin to your pickup location. Tap "Set Pickup"
Tap "Add destination" and input your destination
Tap the small "Price estimate" icon to see your estimate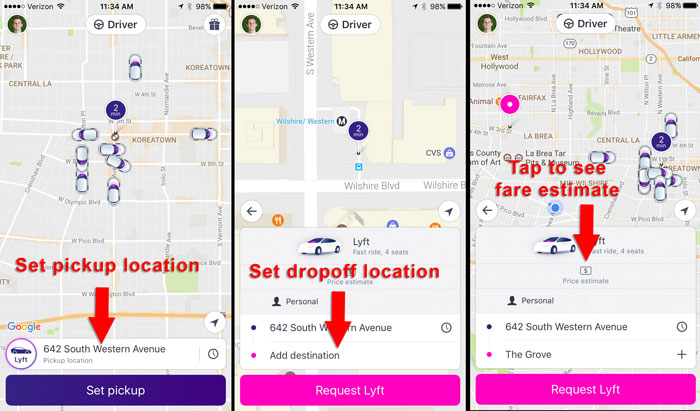 Related Posts
Get a Lyft fare estimate at Lyft.com
Head to the Lyft cities page
Find your city and click on it
Enter your pickup and drop-off locations into the fare estimator and click Get Estimate
Not sure if you understand how Lyft comes up with the estimate? Explanation below! Let's go.
How much does Lyft cost? Breaking down Lyft rates
Lyft calculates your fare using these rates:
Base Charge – A flat amount charged when you begin the ride
Cost per mile – How much you're charged each mile of the ride
Cost per minute – How much you're charged for each minute you're inside the ride
Service Fee – A flat fee charged for each ride. All of this goes to Lyft, not the driver
Other Fees – Airport fees if you get picked up at an airport, toll charges if you use a toll road during your ride
Here's the Lyft fare equation
Base Charge + (Cost per minute * time in ride) + (Cost per mile * ride distance) + Trust and Safety Fee + Other Fees = Your Fare
There's a minimum Lyft price
Let's say you leave the bar and hop in a Lyft for only three blocks. It's a 45 second ride, about a half mile. By your estimate, it should only cost around $3. But wait! Each Lyft city has a minimum fare cost to guarantee that drivers are fairly compensated for short rides.
If the minimum fare is $4, you'll be charged $4 even though the fare equation only adds up to $3.
Ranking the Lyft services from least expensive to most expensive
Lyft offers several services that each charge different prices. Here's how the Lyft services rank from cheapest to most expensive.
Lyft Line – Share your ride with strangers, like a carpool
Lyft – A car to yourself, seats 4 passengers
Lyft Plus – Larger vehicles, seating for more passengers
Lyft Premier – Entery-level luxury car
Lyft Lux – High-end luxury car
Lyft rates and prices may be different in every city
Each Lyft market is priced differently. For example, Lyft costs a little more in an affluent market like New York City and a little less in Tulsa, Oklahoma. Head over to the Lyft Cities page to see Lyft prices in your city, or the city you're visiting.
For Example: A Lyft in Los Angeles costs…
The cost of a Lyft in Los Angeles will give you a general idea for the cost of a Lyft. In some ways it's cheaper than an Uber, in some ways it isn't. Both Uber and Lyft are cheaper than a cab, so you really can't go wrong with either app.
| | Cost/Mile | Cost/Minute | Base Charge | Service Fee | Minimum Fare |
| --- | --- | --- | --- | --- | --- |
| Lyft | $0.90 | $0.15 | $0 | $2.10 | $3.50 |
| Lyft Plus | $1.55 | $0.30 | $1.00 | $2.35 | $6 |
| Lyft Premier | $2.35 | $0.40 | $5 | $2.35 | $9 |
| Lyft Lux | $3.55 | $0.45 | $8 | $1.85 | $15 |
| Lyft Lux SUV | $4.25 | $0.55 | $15 | $1.85 | $25 |
How to contact Lyft customer service
If you have a question about Lyft pricing in your area, you can contact Lyft customer service at help.lyft.com.
Try Lyft! New users can use promo code '
LYFTRSD

'

Want to try Lyft? Download the app and input my promo code to get free credits toward your first ride. Important! Make sure you input the promo code before you request the ride.