How much does a ride with Lyft cost? Lyft makes it easy to get a fare estimate inside the Lyft app or at Lyft.com.
Enter your destination in the Lyft app to see an instant price estimate.
But you might want to know more—How does Lyft calculate prices, and why do some ride types cost more than others?
What you need to know
Get an instant Lyft price estimate by entering your destination into the Lyft app
Lyft uses upfront pricing: Instant quotes that don't show cost per mile or minute
Ride types with more features (XL, Preferred) cost more than a standard Lyft
Save on Lyft with Promo Code '9MQ5JB'
Read on to learn more about how Lyft pricing works and how you can save on your next Lyft ride.
Article Contents
Download the Lyft app and input your destination for a price quote, or go to lyft.com/cities and use the fare calculator tool.
How much does Lyft cost? Breaking down Lyft ride prices
Lyft calculates the cost of a ride using these factors:
Lyft fare — A variable fee based on the ride route, ride type, demand, and ride availability
Service fee — A flat fee based on the region the ride was in
Third-party fees — Any local fees & taxes, airport fees, and other surcharges
Tolls — The cost of tolls is passed onto riders
The Lyft fare equation is:
Lyft fare + service fee + third-party fees + tolls = Your ride price
Upfront pricing: Why rides can be unpredictable
The Lyft app instantly quotes an upfront price when you input a destination. The upfront price is based on factors "which may include estimated time and distance, travel to pickup, ride demand, and other market factors."
Lyft guarantees that you will pay the upfront price unless the trip is unexpectedly longer or shorter than Lyft's estimation.
But after your ride, you might notice that the receipt doesn't give you much detail about the price you paid.
It doesn't say how much you paid per mile or per minute, or how Lyft calculated the fare.
Before upfront pricing, ride prices were calculated with a rate card that specified the exact base fare, cost per mile, and cost per minute.
The benefit of up-front pricing is that you'll always know exactly how much you'll pay before you request the trip.
The downside is that it's not always entirely clear why Lyft charged the price you paid.
How to get a fare estimate in the Lyft app
Open the Lyft app and input your destination
View the price estimate at the bottom of the screen
Scroll to see price estimates for other Lyft ride types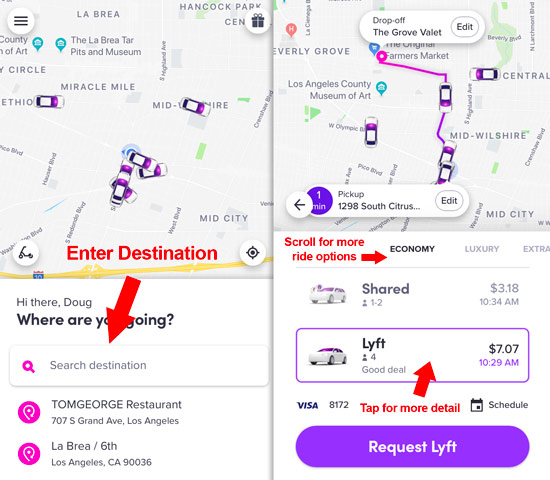 How to see the mileage & time rates for a ride type
Even though the upfront pricing system isn't entirely connected to a set rate card, You can still see the per-mile and per-minute rates for any ride type.
Enter a destination into the app, then tap on a ride type for more pricing information. Next, tap on the small i to bring up Price details.
That's where you can see the base fare, minimum fare, per mile, per minute rate, and Prime Time rate.
Note that the Lyft fare also factors in 'ride availability' and 'demand,' which can add additional charges that make the exact cost of a ride less predictable.
Get a fare estimate at Lyft.com
Head to the Lyft fare estimate page
Enter your pickup and drop-off locations into the fare estimator and click Get Estimate
What is the price difference between the Lyft ride types?
Lyft features several ride types, each with different prices and features.
In general, expect to pay more if you need a larger or more luxurious car.
Lyft ride types from least expensive to most expensive
Lyft Shared – Share your ride with strangers, like a carpool
Lyft – The standard ride
Preferred – Newer cars with more legroom, top-rated drivers
Lyft XL – Larger vehicles, seating for more passengers
Lux – Entry-level luxury car
Lyft Black – High-end luxury car
Lux Black XL – High-end luxury SUV
Priority pickup: Pay more for faster pickup times
The standard Lyft ride has a Priority Pickup option to speed up your pickup time for a few extra dollars.
Wait & Save: Pay less to wait longer
If you're not in a rush, you can save on the cost of a standard Lyft by choosing the Wait & Save option.
Your driver will take longer to pick you up, but you will save a few dollars off the typical ride cost.
What is the minimum cost of a Lyft?
Each Lyft service has a minimum cost that guarantees drivers are fairly compensated for short rides.
In Los Angeles, minimum fares range from ~$3.50 for Lyft, $6 for Lyft XL, and $25 for Lux Black XL.
To check the minimum cost of a Lyft, input a destination and tap on a ride type for more info. Then, tap the small 'i' to see more pricing info, including the minimum fare for that ride type.
Lyft prices go up when demand is high
Lyft charges higher prices when passenger demand is high by adding a pricing multiplier to the cost of the ride.
To see if a pricing surge applies to your fare, tap on the ride type you want to select, then tap on the small "i" next to Payment.
Pricing changes with demand, so if there is a large increase in pricing, consider waiting a few minutes or walking to a less busy location.
How to tip your Lyft driver
You can choose to tip your Lyft driver after the ride has ended. Tipping is optional, and drivers keep 100% of your tip.
You can choose to tip your driver during the ride, or after the ride is over. During the ride, tap on the ride information to find the tipping area. After the ride ends, rate your driver and select a tip amount.
Lyft prices vary from city to city
Prices are different in each Lyft market. For example, Lyft costs more in a market like New York City and less in Tulsa, Oklahoma.
Head over to the Lyft Cities page to see Lyft prices in your city or the city you're visiting.
Real-world Lyft prices: How much Lyft costs in Los Angeles
Lyft prices in Los Angeles are close to the average for US cities, so prices in LA are a good general indicator of how much a Lyft costs nationwide.
| | Cost Per Mile | Cost Per Minute | Base Fare | Minimum Fare |
| --- | --- | --- | --- | --- |
| Lyft | $1.10 | $0.18 | $0 | $3.61 |
| Lyft Preferred | $1.10 | $0.18 | $0 | $3.61 |
| Lyft XL | $1.61 | $0.30 | $1.00 | $6 |
| Lux | $2.41 | $0.40 | $5 | $9 |
| Lux Black | $3.61 | $0.45 | $8 | $15 |
| Lux Black XL | $4.31 | $0.55 | $15 | $25 |
How much a Lyft costs on a 4.6-mile, 18-minute ride in LA
What's the cost of a Lyft for an average ride? The table below shows how much a 4.6-mile, 18-minute Lyft would cost in Los Angeles.
| Lyft Ride Type | Cost (4.6 miles, 18 minutes) |
| --- | --- |
| Shared | $18–$21 |
| Lyft | $18–$25 |
| Lyft XL | $25–$30 |
| Lux | $25–$30 |
| Lux Black | $35–$42 |
| Lux Black XL | $50–$60 |
When Lyft Lux is cheaper than a regular Lyft: Weird pricing!
A higher-end service like Lux can be cheaper than a regular Lyft if a sudden burst of requests for regular Lyft rides drives prices higher than luxury rides.
In the ride below, a Lux is only $14, while a regular Lyft is $16. It looks like this rider might go for the luxury option today!
About Lyft fees
Lyft may charge several fees that can add to the cost of your ride.
Many fees are built into the upfront cost of every ride, but others are avoidable fees based on passenger behavior.
Lyft Service Fee: A flat-rate fee charged on every ride that is used for Lyft operation costs. It is included in upfront price estimates.
Cancellation fee: You will be charged a cancellation fee if you cancel your ride more than two minutes after a driver has accepted your request and the driver is on time to arrive within 5 minutes of the estimated arrival time.
For scheduled rides, you will be charged a $10 fee if you cancel more than 1 hour before your scheduled pickup time.
No-show fee: You will be charged a no-show fee if your driver arrives at your location and you fail to arrive at their car within five minutes.
Third-party fees: You may have to pay for local fees & taxes, fees for an airport ride, or other surcharges that Lyft doesn't charge.
For example, the riders in California pay the California Driver Benefits Fee and Portland riders pay the City of Portland Surcharge.
Lost item return fee: Lyft charges a $15 fee if you lose an item and your driver returns it to you. The full lost item fee goes to your driver.
Damage fee: If you leave a mess or cause damage, Lyft may add a charge to compensate the driver. If you are charged a damage or cleaning fee, you will receive an email from Lyft detailing why.
Tolls: Lyft passengers pay for tolls. The Lyft app will detect when your route involves a toll road, and the cost will be automatically added to your up-front price estimate.
How to save money on Lyft rides
There are several ways to save money on Lyft rides.
Promo codes for new users — All new Lyft users can enter a promo code to get a discount on their first ride. Our code "9MQ5JB' works for all new users, and similar codes are available on coupon sites.
Lyft Pink — A subscription service that offers 'member-exclusive pricing' on all rides for $9.99 per month or $99 per year.
It also offers relaxed cancellations, waived lost and found fees, free Grubhub+ membership, and more.
Credit card cash back & travel rewards — Lyft has partnerships with some credit card companies that offer additional cash back on Lyft rides.
For example, some Chase credit cards offer extra cash back when you use the card to pay for Lyft.
Limited-time discount promos — Lyft occasionally runs limited promotions that offer discounts on rides. Keep an eye out for emails and in-app notifications about a discount opportunity.
How to contact Lyft customer service
Lyft does not have a customer service phone number or an email address, but you can contact Lyft using tools inside the Lyft app or at help.lyft.com.
If you have an issue with a ride, the best way to get help is to go to the ride receipt in the app and scroll to "Get help." Report your issue and Lyft will get back to you via email and an in-app chat.
Try Lyft! New users can use promo code '
9MQ5JB

'

Want to try Lyft? Download the app and input a promo code before you request your first ride.

We may receive app credits if you sign up using our download link or promo code.