How much will your ride with Lyft cost? Most people already know how much a cab will cost (too much), but it's not always easy to ballpark the cost of a Lyft. If you're thinking about using Lyft, you can get a Lyft price estimate inside the app or on the Lyft website using their fare estimator tools. Lyft has up-front pricing inside the app, so if you set your destination, you're now able to see how much your ride will cost right away.
Jump to:
Tip:
Lyft promo code '
LYFTRSD
' will give you a discount on your first ride! I may receive a bonus if you use my code to sign up.
To get a price estimate and see Lyft prices, you can download the Lyft app and input your destination to see an estimate, or you can find your city at lyft.com/cities and use the on-page fare estimate tool.
How much does Lyft cost? A breakdown of Lyft prices
Lyft calculates your fare using this criteria:
Base Charge – A flat amount charged when you begin the ride
Cost per mile – How much you're charged each mile of the ride
Cost per minute – How much you're charged for each minute you're inside the ride
Service Fee – A flat fee charged for each ride. All of this goes to Lyft, not the driver
Other Fees – Airport fees if you get picked up at an airport, toll charges if you use a toll road during your ride
Tip – You can choose to add a tip for your driver at the end of your ride
The Lyft fare equation:
Base Charge + (Cost per minute * time in ride) + (Cost per mile * ride distance) + Trust and Safety Fee + Other Fees + Tip (optional) = Your Fare
How to get a Lyft price estimate inside the Lyft app
Lyft offers upfront pricing, a feature that allows you to see how much your Lyft ride will cost before you make the ride request.
Open the Lyft app and input your destination
View the price estimate at the bottom of the screen
Scroll left and right to see price estimates for other Lyft services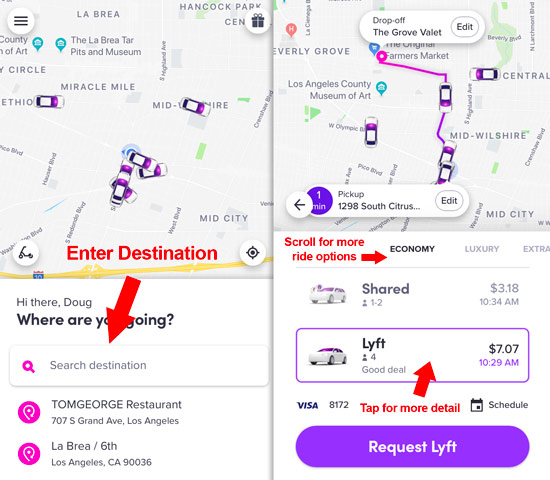 Related Posts for Lyft Users
Get a Lyft fare estimate at Lyft.com
Head to the Lyft cities page
Find your city and click on it
Enter your pickup and drop-off locations into the fare estimator and click Get Estimate
Not sure if you understand how Lyft comes up with the estimate? Explanation below! Let's go.
The cost of your Lyft depends on the type of ride you request
Lyft features several different types of ride types that each carries a different cost. In general, expect to pay more if you need a larger car or a more luxurious car.
Ranking the Lyft services from least expensive to most expensive
Lyft Line – Share your ride with strangers, like a carpool
Lyft – A car to yourself, seats 4 passengers
Lyft XL – Larger vehicles, seating for more passengers
Lyft Lxx – Entry-level luxury car
Lyft Black – High-end luxury car
What is the minimum cost of a Lyft?
Each Lyft service features a minimum cost that guarantees drivers are fairly compensated for short rides. If the minimum fare is $3.50, you'll be charged $3.50 even if you took a very brief ride that should only add up to $3.
To check the minimum cost of a Lyft, head to Lyft.com/cities, get a ride estimate, then click on the More button next to the Lyft ride type you plan to use. The minimum fare for your city will be listed there.
Lyft Prime Time: Lyft prices go up when demand is high
Lyft charges more during times of high passenger demand by adding a pricing multiplier called "Prime Time." Prime Time is indicated in the Lyft app by a small lightning bolt next to the price estimate, and price increases typically are added in 25% increments. Prime Time pricing changes with demand, so if there is a large Prime Time multiplier, consider waiting a few minutes or walking to a less busy location.
How to tip your Lyft driver
You can choose to tip your Lyft driver after the ride has ended. Tipping is optional, and drivers keep 100% of the tip you leave.
How to leave a tip for your Lyft driver
Wait until your ride is over
Rate your driver by tapping the a star rating
After you rate your driver, you can select a tip amount or enter a custom amount
Lyft features Up-front pricing: How does Lyft come up with their prices?
When you input a destination, the Lyft app will automatically quote you a price up-front that factors in mileage, time, Prime Time pricing, and a calculation based on your willingness to pay. You will be charged that price unless the trip is unexpectedly much longer or shorter than Lyft's estimation. Up front pricing makes it difficult to figure out an easy mileage and time calculation for your trip.
The upside to up front pricing is that you'll always know exactly how much you'll pay before you request the trip, but the downside is that it's no longer entirely clear why you're being charged the price you pay.
Lyft prices may be different in from city to city
Each Lyft market is priced differently. For example, Lyft costs a little more in a market like New York City and a little less in Tulsa, Oklahoma. Head over to the Lyft Cities page to see Lyft prices in your city, or the city you're visiting.
Example Lyft prices: How much Lyft costs in Los Angeles
Lyft prices in Los Angeles are close to average for US cities, so prices in LA are a good general indicator for how much a Lyft costs nationwide.
| | Cost Per Mile | Cost Per Minute | Base Fare | Service Fee | Minimum Fare |
| --- | --- | --- | --- | --- | --- |
| Lyft | $1.06 | $0.17 | $0 | $2.30 | $3.50 |
| Lyft XL | $1.61 | $0.30 | $1.00 | $2.55 | $6 |
| Lyft Lux | $2.41 | $0.40 | $5 | $2.55 | $9 |
| Lyft Black | $3.61 | $0.45 | $8 | $1.85 | $15 |
| Lyft Black XL | $4.31 | $0.55 | $15 | $1.85 | $25 |
What is the price difference between the Lyft services?
The cost of your Lyft ride is mainly determined by the service that you select. The costs of the different services, from least expensive to most expensive: Lyft Shared, Lyft, Lyft XL, Lyft Lux, Lyft Black, Black XL.
How much a Lyft costs on a 4.6 mile, 18-minute ride in LA
What's the cost of a Lyft of an average ride? The table below shows how much a 4.6 mile, 18 minute Lyft would cost in Los Angeles on all of the various Lyft services.
| Lyft Ride Type | Cost (4.6 miles, 18 minutes) |
| --- | --- |
| Lyft Line | <$10 |
| Lyft | $10 |
| Lyft Plus | $17 |
| Lyft Premier | $27 |
| Lyft Lux | $36 |
| Lux SUV | $49 |
What fees does Lyft charge to passengers?
Lyft may charge several fees that can add to the cost of your ride. Some of the fees are built into the cost of every ride, and others are avoidable fees that are based on passenger behavior.
Lyft Service Fee: A flat-rate fee charged on every ride that is used for Lyft operation costs. Non refundable.
Damage fee: If you leave a mess or cause damage, Lyft may add an additional charge to compensate the driver. If you are charged a damage or cleaning fee, you will receive an email from Lyft detailing why.
Tolls: Lyft passengers pay for tolls. The Lyft app will detect when your route involves a toll road, and the cost will be automatically added to your up-front price estimate.
Cancellation fee: You will be charged a cancellation fee if you cancel your ride more than two minutes after a driver has accepted your request and the driver is on time to arrive within 5 minutes of the estimated time of arrival.
No-show fee: You will be charged a no-show fee if your driver arrives at your location and you fail to arrive at their car within five minutes. Before your driver can charge you as a no-show, the driver is forced by the app to attempt to call you, so you should receive fair warning.
How to contact Lyft customer service
If you have a question about Lyft pricing in your area, you can contact Lyft customer service at help.lyft.com.
Try Lyft! New users can use promo code '
LYFTRSD

'

Want to try Lyft? Download the app and input my promo code to get free credits toward your first ride. Important! Make sure you input the promo code before you request the ride. I may receive a commission or app credits if you sign up using my download link or promo code.