Want to use a different credit card to pay for an Uber ride? Switching between payment options in the Uber app is easy, but some of the steps in the process might not be obvious to you — They weren't for me! Here's how to add and select a different credit card or payment option.
How to select a different credit card or payment option in the Uber app
Instructions for the updated app, launched November 2016
Open the Uber app
Enter your destination
Tap your credit card number at the bottom of the screen
Select a different payment option or enter a new one
Instructions for older versions of the app
Open the Uber app
Tap the "Set Pickup Location" button
Next to your credit card number, tap "Change"
Select a different payment option or enter a new one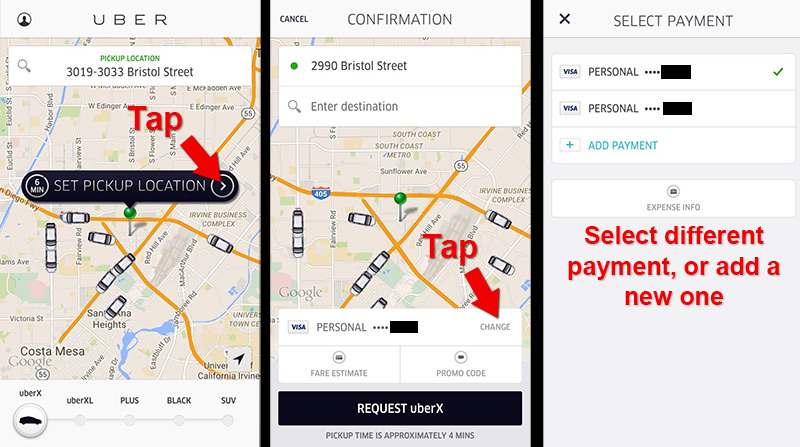 Other Uber payment options
Paypal
Google Wallet – Android users only
Apple Pay – iPhone 6 and up only
AmEx Points – Enroll in the AmEx Membership Rewards program to be eligible
Capital One Quicksilver or QuicksilverOne cards – Get 20% off any Uber
Related: How much does Uber cost? Uber fare estimator
What to do when you can't add a credit card
Sometimes you'll go through all the steps to add a new payment method and it won't become available in your list of payment options, or you'll get an app error when you request a ride using that payment method. If that happens, try to delete and re add the card. If that doesn't work, you'll have to contact Uber support to get this issue resolved.
Find the Cheapest Insurance Quotes in Your Area
What to do when you can't delete an old or expired payment method
Most of us only input one credit card into the Uber app, so when our current card expires and we get a replacement, our first instinct is to delete the old card first then add in the new one. Sadly that simple action will be met with an error message: "You must have at least one payment method active." To get around that, add in your new card first, then delete the old one. It may take a day or two for the old card to disappear, so as long as your new card is approved don't worry about the old one still showing up.
Another problem a lot of Uber users run into is that cards you deleted still show up in your list of payment methods. If that happens, just ignore the old card and make sure to select your current card. The app will use your most recently used card as the default payment method, so you won't have to worry about changing your payment method every time you use the app.
Credit cards are attached to accounts: You can't always share credit cards with a friend
Uber connects credit cards, phone numbers, and accounts to prevent multi-accounting tricks that can net endless free first-time rides. Sometimes you might not be able to add and select a credit card that's already in use by another account.
More Uber tips